Blake
Blake Norwood, the founder of the Umstead 100 and Race Director for 20 years, passed away suddenly on Oct. 29, 2014.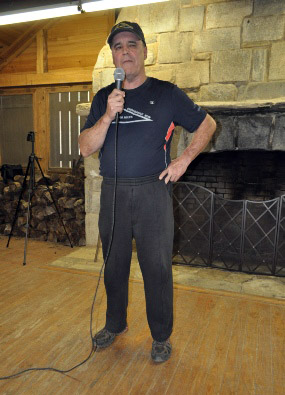 The eulogy, by Charlie Barnes.
An UltraRunning Magazine article on Blake, and his story of how the Umstead 100 started.
Blake Norwood -- In Memoriam, by Rhonda Hampton. From NCRC "Running Account," Oct/Nov 2014.
A Thousand Times Over, by Bill Gentry.
Umstead Ultra-Marathon Loses Its Leader - But the Race Goes On, by Teri Saylor.
Comments on the Umstead100 Facebook page.
A few pictures of Blake over the years.
From the Bright Funeral Home obituary:
Blake Norwood, 68 of Raleigh, died Wednesday, Oct. 29, 2014. He was born July 27, 1946 in Durham, NC to Arnold and Carol Norwood. Blake is survived by his loving wife of 46 years, Myra; their daughter, Laurel; loyal dog, Bucky Von Norwood; his brother, David; sister, Nancy Bishop; niece, Kelly Sears, and several nieces and nephews.
Blake retired from the NC Department of Transportation in State-Wide Planning Division where he worked as a civil engineer and project manager. He was awarded the Governor's Order of the Long Leaf Pine for his service to the State of North Carolina.
Blake served in the U.S. Army and then completed his military service in the Army Reserves, where he retired as a Colonel.
Blake was the founding Race Director of the Umstead 100 Mile Endurance Run for 20 years where he was a leader, friend and mentor to ultra runners everywhere.
Blake was a devoted husband, father, and friend. He was a leader who touched the lives of everyone he met.
Funeral services were held on Saturday, November 1, 2014 at 2:00 at Bay Leaf Baptist. Burial was in the church cemetery.