Cabins
For the race weekend, we've reserved 40 primitive cabins in Umstead Park.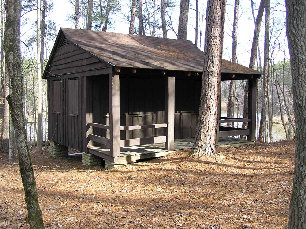 Runners and crew are welcome to stay in these cabins on a first come, first serve basis. The cabins can be reserved by enclosing payment with your entry form.
There are two ways to stay in a cabin:
Single bunk = $10 per person and you'll share a cabin with 1 to 3 other people of the same gender.
Whole cabin = $20 for 2 people, then $10 per person up to 4 people, depending on the cabin's capacity.
The cabins are primitive, small (150 to 225 sq. ft.), with no electricity or water. They have built-in bunks with mattresses, 2 to 4 per cabin. Bring your own bedding (enough to stay warm on a cool night). The cabins provide a roof over your head, but not much more. Adjacent to all cabins is running water, latrines, and showers.
We assign the cabins closest to Race Headquarters first. Twenty-five cabins are in Camp Lapihio and fifteen are half-a-mile away at Camp Crabtree. The cabins have become a popular feature of the race and normally sell out, so get your reservations in early.
We will make every effort to keep requested groups together.
Cabins are available to runners from noon on Friday until 1:00 pm on Sunday.
Clean up your cabin before you leave, and do not remove any Park equipment from the cabin at any time. Our continued use of the cabins depends on these two requirements.
Tents and RVs
No personal tents or RVs are allowed at Camp Lapihio at any time.
There is a camp ground in the park for tent and RV camping. For information about it, call the Umstead Park at 919-571-4170.